Dr Basu Eye Hospital Was Born
Dr Basu Eye Hospital has been serving the community since 1980, thanks to the dedication and leadership of Dr Mahender Singh Basu, the founder. We are proud to offer top-quality eye care services to our patients and will continue to do so for years to come. Driven by a deep-rooted belief in the healing power of Ayurveda, Dr Basu embarked on a mission to create a specialized centre for eye care. Through years of extensive research and exploration of Ayurvedic texts, Dr Basu developed innovative natural treatments and techniques for various eye diseases. His relentless dedication and expertise soon gained recognition, attracting patients from across India and around the globe. Dr Basu Eye Hospital quickly emerged as a trusted institution for comprehensive and holistic eye care, focusing on combining ancient Ayurvedic wisdom with modern technology. Since its inception, our hospital has remained committed to excellence, employing a team of skilled professionals and facilities to provide personalized and effective treatments. Dr Basu Eye Hospital continues to evolve, pushing boundaries in Ayurvedic eye care and improving the lives of countless individuals through its unwavering commitment to patient well-being.
Leading Eye Specialists
At Dr Basu Eye Hospital, our team of expert eye doctors, led by the renowned founder, Em.  Prof. Dr M S Basu, under the guidance of Director Dr Mandeep Basu, is committed to delivering exceptional care.  With extensive knowledge and experience in Ayurvedic eye care, our specialists provide personalized and effective solutions for a wide range of eye conditions.  Dr M S Basu, a senior Eye Specialist, is a respected name in Ayurvedic medicine, holding qualifications such as B.A.M.S, F.O.P.G, D.D.H, M.A.G.S., and M.R.S.H.  His invention, Isotine, has revolutionized Ayurveda-based eye treatment.  Dr Mandeep Basu, a renowned Eye Specialist and qualified optometrist, brings a diversified patient-care experience and manages activities associated with product development and innovation-centric projects to ensure systematic and organized eye care. Our team of certified Ayurvedic doctors, numbering 8+ and 10+ Eye Specialities, ensures patients receive the benefits of Ayurveda's holistic approach to eye care. As a super-speciality eye hospital with branches in Bareilly and Delhi, we prioritize expertise, technology, and Ayurvedic principles to provide the highest quality care and positive outcomes for our patients, with a team of certified Ayurvedic doctors ensuring the benefits of holistic eye care.
Patient-Centric Care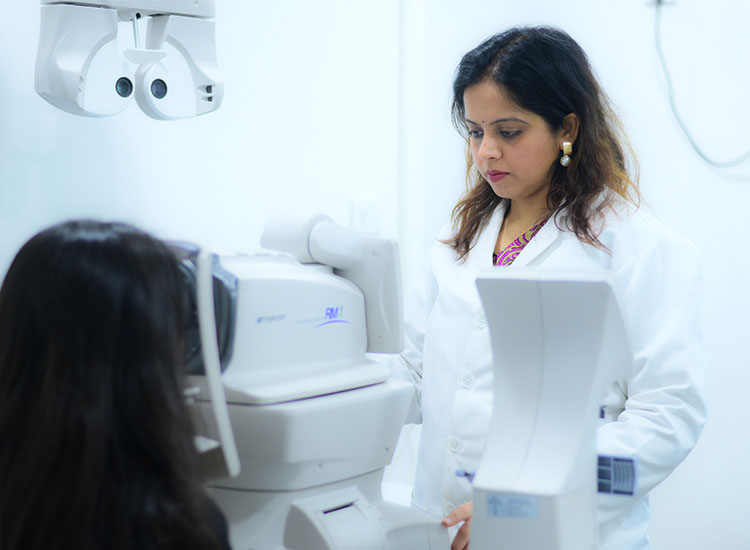 At Dr Basu Eye Hospital, we embrace the Ayurvedic principle of patient-centric care, recognizing that patients are not merely seeking treatment but are unique individuals on a holistic healing journey. Our team of compassionate and dedicated support staff tirelessly work towards providing personalized attention and the highest level of care to every patient. Our staff members strive to create a nurturing and welcoming atmosphere where patients feel valued and comfortable as they embark on their Ayurvedic path to improved vision. By incorporating ancient Ayurvedic wisdom and modern advancements, we ensure that our patients receive holistic care that addresses their needs and restores balance to their eyes and overall well-being.
Comprehensive Ayurvedic Eye Care with Advanced Diagnostics and Personalized Treatment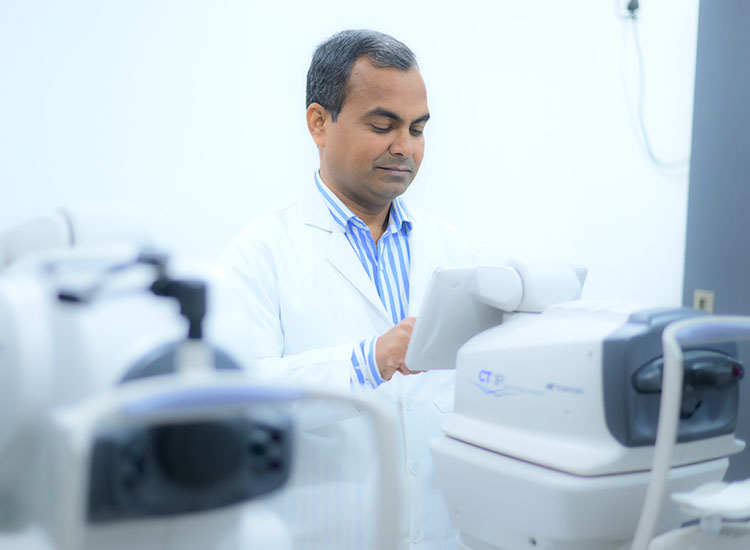 At Dr Basu Eye Hospital, we offer a comprehensive range of eye care services rooted in Ayurvedic principles, providing completely natural and safe treatments with no side effects. With years of expertise in combining Ayurvedic methodology with modern medical processes, we deliver exceptional care through non-invasive practices that eliminate the need for surgical procedures. As an F.D.A. (India) and Ayush-approved entity, we adhere to the highest standards of quality and safety. With the support of advanced diagnostic tools and machines, we accurately diagnose eye conditions and tailor customized treatment plans. Our high-quality facilities and in-person or video consultations enable convenient access to our services. Additionally, we provide personalized medicines, diet plans, and lifestyle recommendations to optimize the healing process. Experience holistic and effective eye care with Dr Basu Eye Hospital
Indian & global Catchment Areas of patients
Dr Basu Eye Hospital has become a trusted destination for Ayurvedic eye care, attracting patients from both Indian and global catchment areas. Our commitment to excellence in eye care has resulted in successfully consulting over 300,000 patients from across the world. Patients from countries such as the U.S.A., Canada, Bahrain, the U.A.E., and Nepal have sought our specialized services, recognizing our expertise and the high-quality care we provide. We take immense pride in catering to the needs of patients not only within India but also from different corners of the globe. We provide both offline and online video consultation to our patients. Our dedicated team of eye specialists, supported by advanced technology and Ayurvedic principles, ensures that patients receive personalized and effective treatment, irrespective of their geographical location. Our aim is to extend our reach further and continue serving patients from various Indian and global catchment areas, improving their vision and health and enhancing their quality of life.
Eye Disease, Advanced Diagnostics & Support-machines
At Dr. Basu Eye Hospital, we specialize in the Ayurvedic treatment of a wide range of eye diseases and conditions, including Immature Cataract, Glaucoma, Color Blindness, Diabetic Retinopathy, Macular Degeneration, and more. Our dedicated team of eye specialists is trained to provide comprehensive care, from routine eye checkups to the management of complex eye conditions. To ensure accurate diagnoses and effective treatment planning, we utilize advanced diagnostics and support machines such as Digital Retinal Imaging, Optical Coherence Tomography (OCT), Visual Field Testing, and Slit Lamps. These technologies enable us to deliver precise and personalized care to our patients, ensuring the best possible outcomes for their eye health.