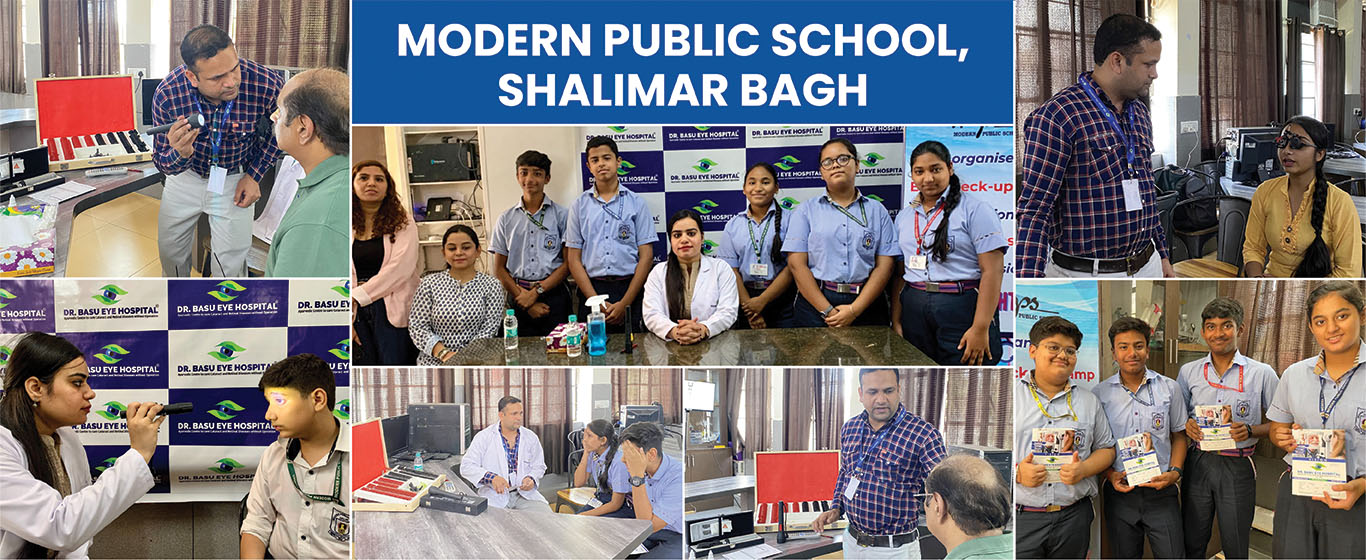 "A child's eyes are their window to the world; safeguarding their eye health is ensuring a brighter future."
It is with immense pleasure, we want to let everyone know that we  were able to successfully conduct eye camp at Modern Public School (MPS), Shalimar Bagh, in commemoration of International World Sight Day. The event was conducted on October 9th, 2023 by  Dr. Basu Eye Hospital with the primary objective to raise awareness about natural eye care and provide valuable insights into optimal vision care.
Valuable response from the Principal
In response to the initiative, Ms. Alka Kapur, the Principal of Modern Public School, remarked,, "Our sight is a precious gift, and we might often take it for granted. And there is a pressing need to promote easy access to eye care services nationwide. Our collaboration with a reputed medical institution like the Dr. Basu Eye Hospital is targeted towards spreading awareness among our students and faculty and facilitating them with enriching tips to take care of their eyes in a natural way,"
Eye Health Camp Benefits Hundreds at Modern Public School
Approximately 500 students from grades VIII, IX, and XI at MPS, along with 100 faculty members, actively engaged in the camp. The team from Dr. Basu Eye Hospital, comprising one physician and two optometrists, conducted comprehensive eye examinations for the participants. Our experienced eye specialists delivered in-depth consultations to both students and faculty members, offering valuable recommendations and insights to enhance their eye health. This informative session was complemented by an enlightening talk from an Ayurveda specialist who shared practical tips for eye care and addressed various eye-related concerns.
Our Doctor says:
"The primary objective of Dr. Basu Eye Hospital is to make eye care services accessible for all. It was our privilege to conduct an eye camp in a Modern Public School and educate thousands of students and staff members about Eye health and the importance of Ayurveda in eyecare treatment, mentioned Dr. Mandeep Singh Basu, Director of Dr. Basu Eye Hospital.
At Dr. Basu Eye Hospital, we believe that A child's vision unlocks the door to their imagination and aspirations. Safeguarding their sight is nurturing their limitless potential. Students and faculty members diagnosed with eye conditions such as myopia and dry eyes received comprehensive consultations from our dedicated eye specialists. Our Doctors provided them with recommendations tailored to their unique needs. Both the students and faculty members were also given prescription cards with guides to care for their eyes better.
We are happy and proud that the event was immensely impactful, leaving an indelible mark on both the students and faculty members of Modern Public School. The participation of a good number of students and staff members underscored the event's significance to the importance of eye health. Our team of doctors and optometrists, left no stones unturned to ensure that each participant received a thorough eye examination. This successful camp truly resonated with our mission to raise awareness about the importance of eye health among students and staff members of Modern Public School.