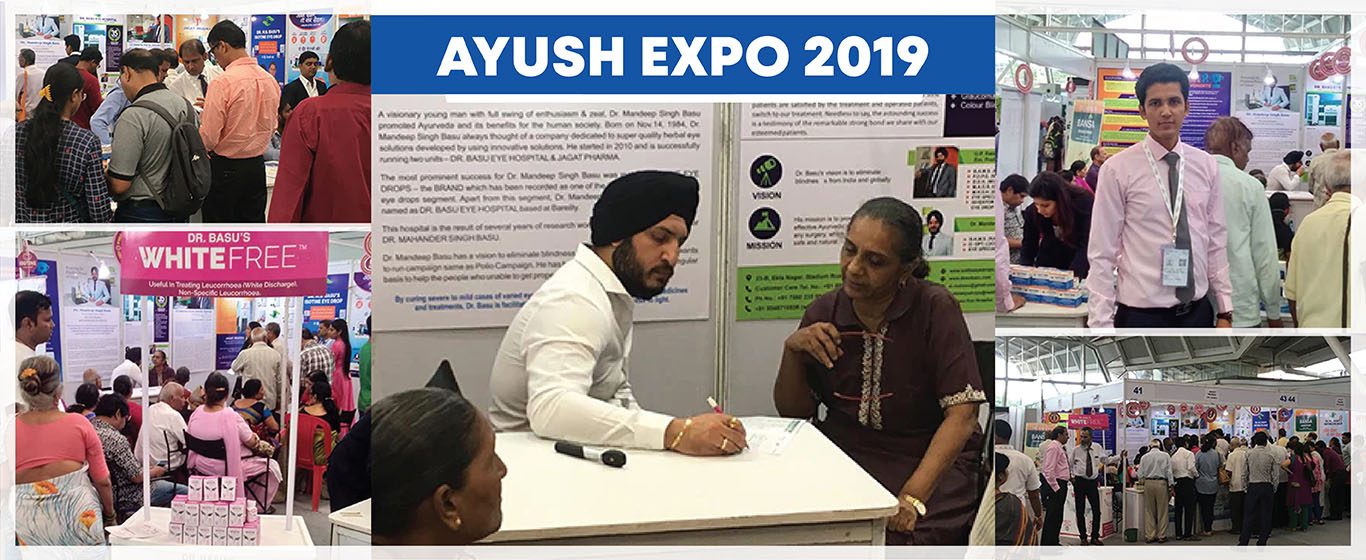 Exploring the World Ayush Expo 2019
The Maharashtra University of Health Sciences, in collaboration with the Department of AYUSH, Government of India, New Delhi, organized the World Ayush Expo 2019 from August 22nd to August 25th, 2019, at the CIDCO Exhibition Centre in Vashi, Navi Mumbai, Maharashtra.
The AYUSH Expo, a four-day event, witnessed the active participation of esteemed hospitals, educational institutions, wellness centers, pharmaceutical and phyto-pharmaceutical companies, as well as alternative medicine centers. This grand gathering was supported by relevant industrial bodies, aiming to showcase the diverse offerings of the traditional medicine sector. In addition, the expo highlighted a wide range of organic and natural farm products sourced from various regions across the country.
Dr. Basu Eye Hospital's Participation:
Dr. Basu Eye Hospital, the industry leader in Ayurveda also participated in the expo organized by AYUSH. The programme aimed to provide a platform for promoting Indian traditional medicines and other indigenous medicine systems. By participating in The World AYUSH Expo 2019 & AROGYA, we aimed to contribute to the growth and recognition of alternative therapies such as Ayurveda, Yoga & Naturopathy, Unani, Siddha, and Homeopathy.
Dr. Basu Eye Hospital played an active role in the event, utilizing the opportunity to exhibit our wide range of traditional medicines, Ayurvedic therapies, herbal products and various natural remedies. Dr. Basu Eye Hospital's participation showcased our commitment to preserving as well as promoting the rich heritage of Indian traditional medicine. The presence  of our team at the event served as a testament to our dedication to providing safe, effective, and holistic healthcare solutions.
The expo also provided an opportunity for Dr Basu Eye Hospital to connect with other stakeholders in the field of traditional medicine. Through networking and collaboration, we aimed to forge partnerships with researchers, practitioners, and policymakers to further advance the integration of traditional medicine into mainstream healthcare.
Key Highlights of the AYUSH Expo:
The AYUSH Expo and Wellness Event showcased the rich diversity of traditional medicine systems, including Ayurveda, Yoga, Naturopathy, Unani, Siddha, Sowa-Rigpa, Homoeopathy, and wellness practices. The event encompassed several noteworthy features, including an international conference on AYUSH, wellness, and allied medical sciences. Dr. Basu Eye Hospital  and its team aimed to raise awareness about the effectiveness of these systems and the potential to complement modern medical practices.
The expo facilitated buyer-seller meetings and strategically planned business-to-business (B2B) sessions, attracting hosted buyers from more than 30 countries. This created a platform for networking and forging international collaborations in the field of traditional medicine and wellness.
The event drew visitors and hosted buyer delegations from over 30 countries, fostering global interactions and knowledge exchange. This international representation further enriched the expo by showcasing diverse perspectives and practices from around the world. During the exhibition, we actively engaged with visitors, including healthcare professionals, researchers, and the general public, to provide them with valuable insights into traditional medicines and their applications. The company's representatives conducted informative sessions, interactive demonstrations, and workshops to educate attendees about the principles and benefits of these indigenous medicine systems.
Recognizing the potential for investment in the AYUSH sector, an international investment meet was organized during the event. This aimed to attract investment and facilitate partnerships to promote growth and innovation in traditional medicine systems.
In order to bridge the gap between the industry and farmers, an industry-farmers interactive meet was held. This provided a unique opportunity for farmers to engage with industry professionals, fostering dialogue and knowledge sharing for sustainable and ethical sourcing of medicinal plants.
Live demonstrations were an integral part of the expo, allowing visitors to witness traditional healing practices in action. These demonstrations showcased the effectiveness and unique techniques employed in various AYUSH therapies.
AYUSH healthcare lectures formed an important component of the event, providing a platform for experts to share their knowledge and insights with attendees. These lectures covered a wide range of topics, including the principles, benefits, and advancements in traditional medicine systems and wellness practices.
Our participation was to highlight the numerous benefits offered by Indian traditional medicines. These medicines focus on treating the root cause of ailments rather than just alleviating symptoms, providing long-lasting and sustainable relief. Additionally, they often incorporate natural ingredients, minimizing the risk of side effects and promoting overall well-being.
Objective of the expo:
The AYUSH Expo and Wellness Event had several key objectives. Firstly, it aimed to showcase the strength and scientific validation of AYUSH in the global context. Secondly, it sought to promote and enhance awareness about AYUSH, fostering interest in these traditional medicine systems. The event also aimed to facilitate international promotion, development, and recognition of Ayurveda, Yoga, Naturopathy, Unani, Siddha, Sowa-Rigpa, and Homoeopathy. Moreover, it aimed to foster interaction among stakeholders and promote the market development of AYUSH at the international level. Additionally, the event aimed to boost AYUSH products in the international market, leveraging the potential of this rapidly growing and globally emerging sector. Lastly, the expo aimed to exhibit the latest research and developments in the AYUSH sector, showcasing its advancements and potential to a wide audience.
Conclusion: Dr Basu Eye Hospital's participation in the World AYUSH Expo 2019 & AROGYA showcased our commitment to promoting and preserving Indian traditional medicines. By joining this esteemed event, the company successfully highlighted the benefits and potential of  Ayurveda. Through  active involvement and engagement with attendees, we contributed to the growth and development of traditional medicine systems and fostered collaborations to drive their integration into modern healthcare practices.