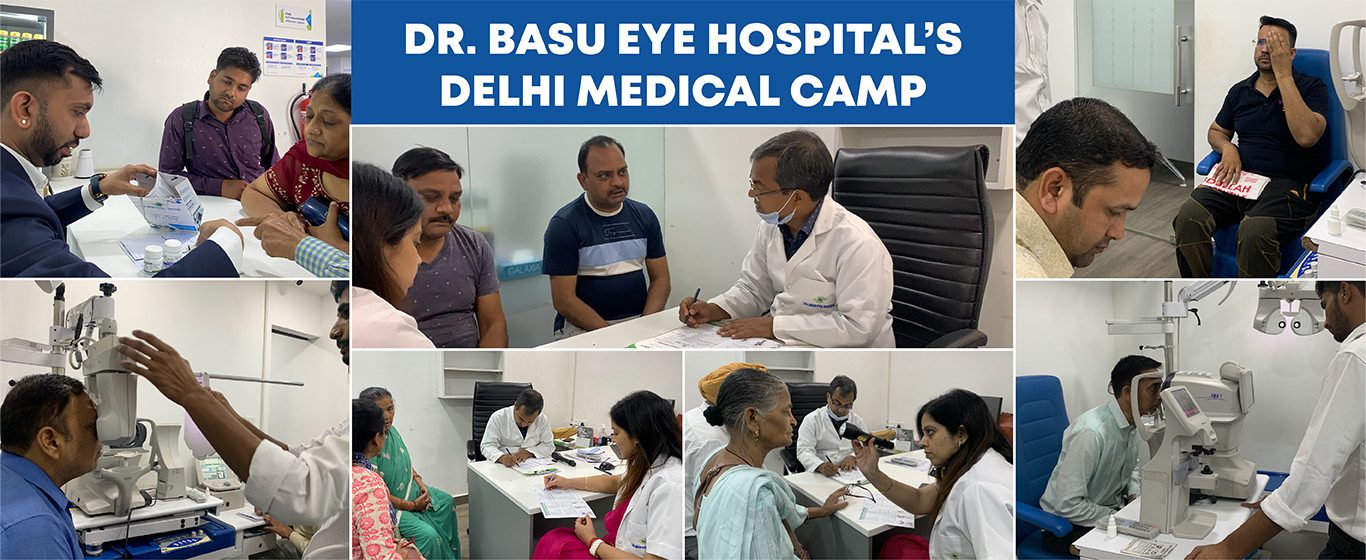 Dr Basu Eye Hospital, renowned for its expertise in Ayurvedic eye care, demonstrated its commitment to raising awareness about natural and herbal treatments for cataracts by organizing an eye disorder prevention medical camp in collaboration with the Bina Operation Motiyabind Dhirishti Dosh Nivaran Samithi. The successful event occurred on April 30, 2023, at the Dr Basu Eye Hospital and Cataract Prevention Center in Jasola, New Delhi under the guidance of Dr. Basu, best eye specialist in Delhi. The aim of the Ayurvedic medical camp was to educate people about alternative approaches to cataract treatment, emphasizing the hospital's dedication to promoting holistic and non-surgical methodologies.
The medical camp witnessed the participation of 150 beneficiaries who received complimentary treatment for cataract-related eye disorders. This notable event highlighted the significant fact that cataracts and other eye disorders could be effectively treated through entirely natural processes without the need for surgery. The presence of esteemed dignitaries, including Saurabh Bhardwaj, the Health Minister of Delhi, as the Chief Guest, and Krishan Jakhar, the Municipal Councilor of Chirag Delhi, as the Special Guest, added further significance to the camp.
Health Minister of Delhi, Saurabh Bhardwaj, expressed his honour to be associated with as: "It is an honor to be part of such a noble initiative which advocates the natural and herbal treatment of key eye diseases. Cataract has been a major concern among several individuals across the country in recent years, mostly driven by the increasing numbers of diabetic cases. The endeavor of Dr Mahender Singh Basu best eye specialist in Delhi, Founder of Dr. Basu Eye Hospital is especially laudable at this time considering the pressing need for Ayurvedic health care for a sustainable lifestyle,"
Special Guest at the occasion Municipal Councilor, Chirag Delhi Krishan Jakhar
highlighted how eye treatment through ancient Indian medication like Ayurveda can be more effective than modern medication involving operations. "This medical camp will indeed foster a change of mindset among people, who are now getting more and more aware of treatment through sustainable methodologies. I really appreciate Dr. Basu Eye Hospital for organizing the medical camp, not just because it significantly helped several people today but also because this will be phenomenal in revamping the eye treatment procedures across the country in the long run," mentioned Mr Jakhar.
The medical camp focused on eye disorder prevention, aligning with Dr Basu Eye Hospital's mission to provide advanced and thoroughly researched solutions for eye treatments. As part of its commitment to innovation, the hospital recently shared the outcomes of a retrospective observational study conducted by Prof. Yamini from Banaras Hindu University, Uttar Pradesh. The study investigated the efficacy of Isotine herbal eye drops, which are known to be effective in treating vision impairment caused by cataracts. The study involved 308 cataract patients who received treatment between 2017 and 2019, and the results demonstrated significant improvements in uncorrected distance visual acuity (UDVA) and uncorrected near visual acuity (UNVA) following the use of Isotine.
"Our aim has always been to continue advanced medicinal research and develop solutions that will provide the best medical benefit to the maximum number of people. The huge number of people preferring to get treated for cataracts through natural methodology without any surgery at the medical camp today is a testament to how people are getting more aware of natural and herbal treatment, which can be the best way to maintain a healthy living" said Dr Mahender Singh Basu, Founder of Dr. Basu Eye Hospital.
The eye disorder prevention medical camp organized by Dr Basu Eye Hospital was a remarkable success, with 150 beneficiaries receiving free treatment for cataract-related eye disorders. This event emphasized the effectiveness of natural methodologies in treating eye conditions without resorting to surgery. With esteemed dignitaries in attendance and a focus on advanced research, the camp showcased the hospital's commitment to providing holistic and sustainable eye care solutions.